Studio Z
email: mark@studio-z.org, for inquiries, if you saw a piece at a show you want, or if you have an idea for a commission or product design.
As of 8/3/23, commision backlog is 3 installations, about 4 months? Except for Eggstravaganza, everything else on this website is sold out. Apologies. I show all of my new work at shows.
2023 art show schedule:
Carefree Arts Festival, Carefree, AZ January 21-23
La Quinta Arts festival, La Quinta, CA, March 2-5
Woodlands Waterway Arts Festival, The Woodlands, Texas, April 14-16
Fiesta Arts Fair, San Antonio, Texas, April 22-23
Art in the Square, Southlake, Texas, April 28-30
Laumeier Sculpture Park, St Louis MO May 12-14 * award winner
Art on the Square, Belleville, IL May 19-21
Denver Arts Festival, Denver, CO May 28 - 29
Old Town Arts Festival, Chicago, IL June 10-11 (Booth 220) (this turned out to be a record show!)
Columbus Arts Festival, Columbus, OH June 9-11 (withdrawn, same day as old town)
Krasl Art Festival on the Bluff, St. Joseph, MI July 8-9 * award winner
Ann Arbor Original Street Art Fair, Ann Arbor MI July 20-23 (another record show!)
Cherry Creek Smash Art Festival, August 12-13, Denver, CO (** next show **)
Ongoing gallery presentation, Thunderbird Art Gallery, Carefree AZ, starting about August 15th
Golden Fine Arts Festival, Golden, CO August 20-21 * award winner
Castle Rock Art Festival, Castle Rock, CO September 9-10
St James Court / Belgravia, Louisville KY October 6-8 (director's invite)
2024 art show schedule: (so far)

Fiesta Arts Fair, San Antonio, Texas, April 22-23 O(awatrd winner invite)
Larger works/ other materials (bronze, sterling, jade, steel, brass, stainless) by commission
Recently interviewed as featured artist from the Ann Arbor show, by Taylor Marks of Riseyear/whatsnext, Apple or Spotify
Apologies to the many shows who invited me in 2022, but unable to attend: La Quinta, Madison, 57th Street, Coconut Grove, Artigras, and a dozen others. Maybe next year?
Recently completed "Eggstravaganza #2" - 20" high, 12" wide, 0.5 inches thick ©2021, 2022 all rights reserved etc

Thank you for a great show season in 2019!
Apologies to these shows who invited me, but i was unable to attend: ACC Minneapolis, Deep Ellum Arts Festival (Dallas), Artigras Fine Arts Jupiter FL, Tucson 6th street, Aspen, Evergreen, Chicago, State Street, HEA, Breckenridge main street, Salida, and about 5 other shows, they were all kind enough to invite me, but I will be unable to attend.
And an especially big thank you to the folks who gave me my first show, the Cherry Arts Show Stanley 2015.
Thank you to all of my customers! What fun! Customers from Florida, Colorado, Hawaii, France, Boulder, and other places. Thank you to Adena Sladek and Fred Hall for artistic and booth support!
Why do I not show all of my newest designs on this website? For me, the biggest joy is watching people react when they look at one of my pieces, can't get that in an email or phone call.
Apologies, about 70 new works not shown on the web.
Older shows where you may have seen my work:
La Quinta, March 2019
Madison, Wisconsin, art on the Square 2019
CareFree Arizona Fall Show, October, 2019
Palo Alto Arts Festival, Palo Alto, CA (heart of Silicon valley), August 2019
Bellevue Arts Museum BAM show, Bellevue, Washington, 2019
Pearl Street Arts Festival, Boulder, CO, 2019
Ann Arbor, MI, the original show, Booth WA912, July 19 - July 22nd, 2018
Cheeseman Park Art festival, Denver, Colorado, Booth C4, July 28th and July 29 2018
Park City Kimball Arts Festival 2018, Park City, Utah, August 3-5, booth #406 2018
Golden Fine Arts Festival, Golden, CO, August 18-19, what a surprise, received 1st place award for sculpture.
Palo Alto Festival of the Arts 2018, August 25-26, Palo Alto, California (Silicon valley!)
Breckenridge Gathering at the Great Divide , Sept 1-2 (labor Day weekend) Breckenridge, CO
Cherry Creek Stanley Arts festival , September 7-9, Aurora Colorado
Rio Grande Arts and Crafts Festival 30th Annual Balloon Fiesta Show, Albuquerque, NM, October 5-7 and Oct 12-14
Cherry Creek Arts festival, July 2018 Denver (wait listed)
Coconut Grove, Florida, January, 2018
Scottsdale, Arizona, March 9-11. 2018
Vail Arts Festiavl (Thank you Laurie!)
Denver Arts Festival, Labor Day weekend (5/26) , Denver, Colorado, 2018 (Thank you Jim!)
Audrey, National Center for Atmospheric Research (NCAR) , Boulder, for selecting me and 11 others out of over 250 artists for a 2 month exhibition, November and December 2017.
Pearl Street Arts festival, Boulder, CO, July 15-16, 2017, booth # 1308 ( between 13th & 14th street)
State Street Arts festival, Ann Arbor, MI, July 20-23, 2017
Park City Arts Festival, Park City, Utah, August 5-6, 2017
Golden Arts Festival, August 19-20, 2017
Sausalito Arts Festival, California, Sept 2-4, Labor day weekend, 2017
Albuquerque Balloon Festival, Oct 7-8, 2017
Cherry Arts Show Stanley
Golden Art Show! 1st place award winner, best in sculpture.
Loveland Arts festival
Denver Art Festival
Boulder Arts festival on the Pearl Street Mall
September 16 (evening only), 18 & 19, 2016 (invited back for second year), Cherry Arts Festival at Stanley.
August, 2017, Golden Fine Arts Festival, Golden, CO, invited back!
Memorial Day weekend, 2017 Denver Arts Festival (show over, thank you to repeat and new customers)
August 20-21, 2016, Golden Fine Arts Festival, Golden, CO, awarded 1st place in sculpture
Loveland Fine Arts and sculptural invitational, August 12, 13 & 14, 2016, Loveland, CO
June 18-19, 2016, Denver Arts Festival
July 16-17, Pearl Street Arts Festival, Boulder, CO
Co Art Gallery, 846 Santa fe drive in denver, starting Feb. 1 and ending May 30.. Our 12 piece installation is on the guest artists's wall, which is towards the back of the gallery. Big thank you to Adena Sladek for doing display coordination.
Cherry Creek Arts Festival, October 23, 23 and 24th, 2015 in Denver. 20+ of my new works will be on display in their first ever public showing. (Photos by Jeff Scovil and Adena Sladek). All work is carved and machined from salvaged scrap aircraft aluminum, using a variety of hand, machine and gem cutting techniques. About 20% of the work that goes into each piece is handwork and about 80% machine. Designing can take anywhere from several days on up to 30 years (alummonite), depending on how long it takes for the idea to occur to me.
Oh, almost forgot, in response to your many questions, on a limited basis I will do commissions. They must be either a variation of a series, or new work for public display in a gallery, restaurant, public building, building facade, fence, room divider, window panel, museum display or other public works. Yes, I can go larger, up to 5 x 10 feet in a single piece, and building sized after that.
Here area few from the Cherry arts show: (if you click on the pictures, they get larger) (Of course, all designs are copyright (C) 2004-2018 by Mark Zirinsky, All rights reserved. )
Please contact me: mark@studio-z.org
"One liner" series, about 18" high $450. A continuous line, this one is 102 feet long (sold)
"Speckled". 16" high, $425 (sold)
"Parquayed". 14" high. $550 (sold)
"radiance". 16" high. $675
"7 spheres #1". 12" high. $525
'Aluminessence, capped" 17" high. $1,600. Absolutely gorgeous. ** SOLD **
"Amoebilium". 19" high. sold
"Cellular Religion". 10" high. $425. Our faith is the sum of the bits and pieces of our beliefs, in what we each hold to be true.
"Family tree". 14" high. $575 (sold)
"lotfallah" 9" high. $375
"Speckled 2". 18" wide. sold
"Snakeskin". 9" high. Sold
"1 liner over 3". 9" high. $375
"Cavernous". 16" high. Sold
Alummonite. 15" high. $1,600 high
"Orthomium." 10" high. Sold.
"Cellulous". 13" high. Sold
Aluminessence #1. NFS.
"marching Bowl" 18" long. $1,300. All surfaces are absolutely flat, could have called this the "curveless" bowl.


pair of alummonites. a matching set. Sold

Photos are byJeff Scovil and Adena Sladek.
---
A few of them are:
Completed 2015. Carved aluminum. 22": high, 10" wide.
And a bowl, carved and engraved aluminum: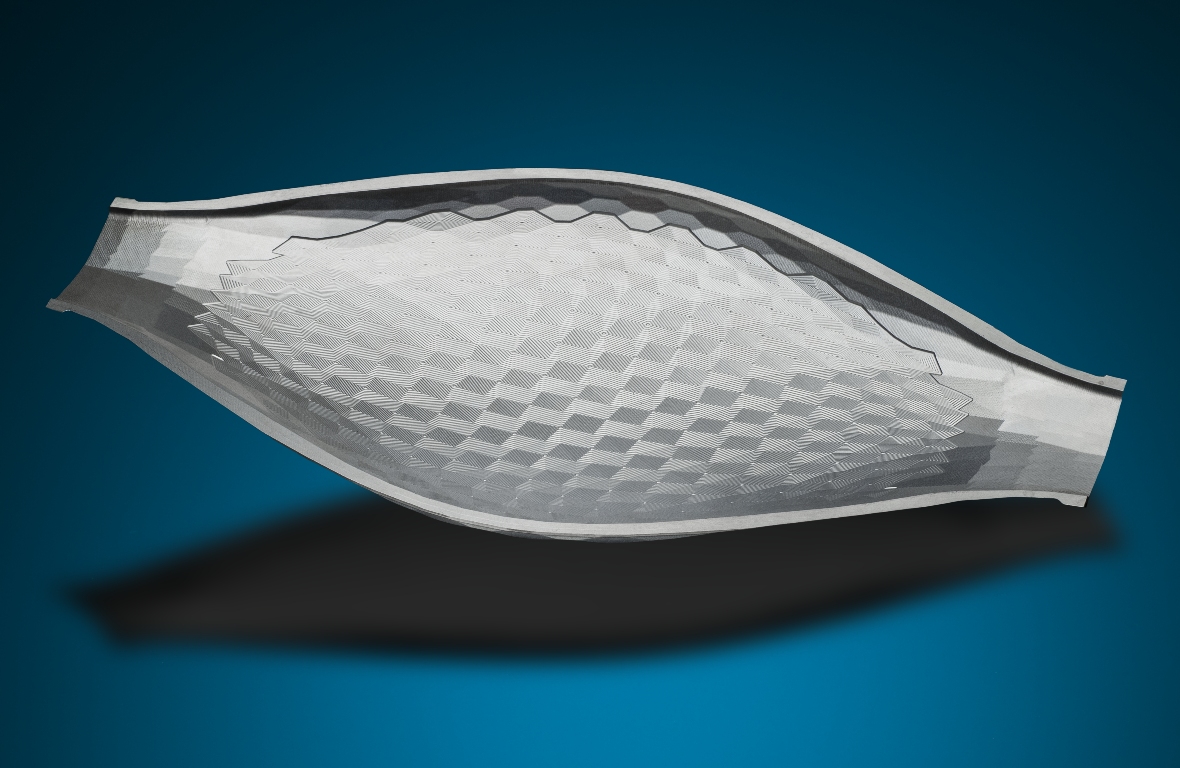 And a panel, also carved and engraved aluminum:
Of course, all designs are copyright (C) 2004-2015 by Mark Zirinsky, All rights reserved.
Older work:
Harmonica"
Symmetrical Z cut (tm). 2007, black wyoming nephrite jade. about 6.5 inches long, 2.5 mm thick. 122 carats. Photo by Jeff Scovil.
Mark Zirinsky
Studio Z


Mailing address: 6035 E 38th Avenue, Denver, CO 80207

Some various works. Of hundreds of unique pieces, here are a few of the better ones. All designs (C) copyright 1997-2015 Mark Zirinsky. All rights reserved.
Symmetrical Z cut (tm)
2007, Argentinian jade, 53.42 cts , 60 x 40 mm approx, 2.0 mm thick, photo by Jeff Scovil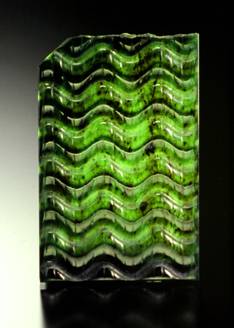 Breast plate of Aaron
2004, nephrite jade ands silver, 2,222.2 cts. Photo by Jeff Scovil

yad
completed 2005, about 700 carats. Over 500 spherical facets. Photo by Jeff Scovil . Hand by Gail Devore. Carved nephrite and sterling.

breast plate of Aaron
1999. Sterling silver and gemstones. Weighs about 65 ounces. Set with 12 gemstones, labradorite, gem silica, amazonite, red agate, imperial picture jasper, rhodochrosite , lapis, crazy lace agate, meteorite, agate, sugilite.
Photo by Jeff Scovil.

"Bar Mitzvah" Torah breastplate
Novmber, 2008. Made to honor and commemorate the Bar Mitvahs of both of my sons, David and Robert. Made from a 600 pound black jade boulder found in Wyoming in 1958, and sterling silver. The Star of David is carved from one piece of jade, about 4 inches in diameter, weighs in at 116 carats. The tree is lost wax cast, soldered, and forged, the chain is fabricated. Both stones are set to the silver, the star using a reverse hidden flush channel set technique, the jade arc segment set with a reverse expansion tension set. The Hebrew engraving roughly translates to "Here my sons, honor your father's teachings and don't forsake your mother's Torah"
Overall height (without chain) is about 12 inches, about 8 inches wide.
Mark Zirinsky
Studio Z
Denver, Colorado
gemcarver@pemed.com
mark@studio-z.org